Sneak-Peek: What's Inside the
Social Media Calendar 2020-2021
Comes in three different formats: PDF, EXCEL, G-DOCS.
This system is for you if...

You're tired.
You're done making excuses.
You're wondering what you're missing.
You want to go all-in and create success for your church.
You're passionate about how social media is able to engage your community and invite people to church.
Contains multiple prompts for status updates every SINGLE DAY.
Sample pack of videos and images to drive engagement and to boost visibility.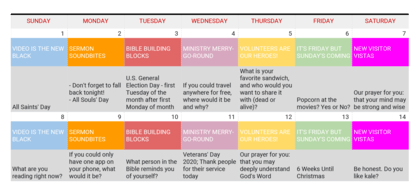 Customizable in one click!

This system is not for you if...

You're not an action-taker.
You're not ready to commit yourself to a successful plan.
You don't think consistency on social media can actually do something for your church.
You're not willing to put in any energy and connect with your audience consistently.